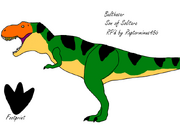 Balthasar the Tyrannosaurus rex (RP'd by Raptormimus456) is the son of Solitare (RP'd by Tyrannosaur) and Samus (also RP'd by Tyrannosaur). He currently has a mate named Giselle (NPC'd by Raptormimus456), as well as a clutch of chicks. 
His aliases include: Baltha, The Prince of Sorna, Son of Solitare, Terrible Teen of Sorna
The first notable occurence in Balthasar's life was the death of Samus by the horns of Praxia the Triceratops, as well as the subsequent battle between Solitare and Praxia. 
A few years later, Balthasar and Solitare remained together and hunted well. Around now was when Balthasar was noticably chunkier and more powerful, like his father. However, he still sports the juvenile body frame as he is still a juvenile. He is also noticably small when compared to Solitare, though this is simply an prospect of age. 
One day, in the Game Trails of Isla Sorna, Balthasar encountered and sucessfully courted a female Tyrannosaurus named Giselle. Balthasar and Solitare went their seperate ways, and now the Terrible Teen of Sorna was a father. He would encounter some more dinosaurs, such as Skorge the Spinosaurus (RP'd by Predator'sInstinct) and Wrath the Carnotaurus (RP'd by Sickle Claw). So far, the Son of Solitare has yet to duel with another theropod in physical combat.
Ad blocker interference detected!
Wikia is a free-to-use site that makes money from advertising. We have a modified experience for viewers using ad blockers

Wikia is not accessible if you've made further modifications. Remove the custom ad blocker rule(s) and the page will load as expected.